Introduction to RealitySports Online
Most fantasy football leagues in today's world run on some kind of online platform. There are a number of fantasy football platforms out there, and the goal of this site is to provide detailed coverage of as many of them as possible.
#RealitySportsOnline (or #RSO) is a unique platform in the fantasy football platform space. Their primary premise and differentiation is that they attempt to mimic the real NFL Salary Cap and Contract system within the game of fantasy football. While this post won't "review" that characteristic and its merits/detractions, I will mention it again as I describe their league setup.
There is an important thing to understand when using the #RSO platform and deciding to host a league there. While the platform is pretty configurable in comparison to other platforms, it isn't as configurable as some of the most configurable platforms. There are some baked-in rules in #RSO that all leagues must follow, and you won't see those on the configuration screens. #RSO focuses most of its league configuration on roster configuration & scoring settings, but as you'll see there are some particularly specific configurations around how much your league will mimic the real NFL.
At this point, I would usually describe what types of leagues a given platform supports, but #RSO isn't really useful for Redraft leagues because of how much it relies on the Salary Cap and Contracts as the primary characteristic of the platform. You technically could do Redraft with a clever configuration, but you're sacrificing the point of the platform.
That means you are primarily playing some form of Keeper or Dynasty on #RSO, but it's technically neither of those styles directly. #RSO is closer to Keeper in the sense that keeping a player year-over-year has a cost in the form of a contract and you generally don't keep your whole team forever like you do in Dynasty. But given the contract system and how you configure the league, you can certainly go way beyond what the typical Keeper league looks like and operate closer to true Dynasty. I think it's fair to call #RSO a pure Contract League, which is a league type not previously explored heavily on this site.
There are six pages of the league configuration screen in RSO:
League Info
Rosters
Scoring
Acquisitions
Draft
Invites
Let's dive into each section.
League Info
The League Info page is pretty straightforward, although there are some settings worth noting here.
Number of Teams – Specific numbers are offered here instead of every number like other platforms: 6, 7, 8, 9, 10, 12, 14, 16, 20, 24, 28, & 32. Those are the pretty popular numbers, but the omission of numbers is curious, because once your league is configured, you can add/remove teams.
Divisions – A choice of 1 or 2 divisions is offered initially, but again, this is customizable after league creation.
Regular Season Length – You can play anywhere from 8 to 18 week seasons.
League Scoring Type –

#

RSO

supports both head-to-head style play as well as total points (season) style. It does not support true Best Ball nor Rotisserie style scoring.
Playoffs – The most common playoff settings are offered and you can mix-match 2/4/6/8 teams with ½ week matches (or championship), but this is not infinitely configurable.
League Payment Made By – This is probably the most noteworthy setting, as

#

RSO

is not a free platform. You can either have the commissioner pay a one-time fee on behalf of all managers, or your can have each manager pay their own fee when they log into the league for the first time. I prefer the latter, but both work well.
Rosters
Here is where we get into some of the more specific configurations in RSO. The image above is a long scrolling capture because I want to highlight two different types of settings on this page: typical roster configurations and #RSO specific ones.
In the typical front, you can have anywhere from 4 to 53 player rosters. The typical offensive positions are offered (except OL and distinct FB), the typical defensive (IDP) positions are offered (without distinction between inside/outside LB), and team QB/Defense is offered. There are also many different FLEX configurations available, and you can set the number of starts, mins, and maxes by position. All of this is just about as configurable as the most advanced platforms.
Where #RSO gets more specific is around Player Contracts, Injured Reserve, and Practice Squad, and it's worth discussing each of these briefly.
The Player Contracts sub-section has three main items in it. The first is how many multi-year contracts you will allow each off-season during your Free Agent Auction. #RSO separates the Rookie Draft (rookies only, typical draft) from the Free Agent Auction (bid on free agents), and during the latter you can offer multi-year contracts to players to keep them year-over-year. The maximum length is 4 years and you can decide between 2/3/4-year contracts how many each team will be allowed to offer. You don't have to offer all of them.
The second and third items control whether you will allow a Franchise Tag per team in the off-season (works just like the real NFL tag), and whether you will allow managers the ability to extend player contracts during weeks 5-13 of the regular season for players whose contracts are expiring at the end of the year. The former setting is a toggle (1 tag per manager), the second is a number from 0-9.
The other two noteworthy configurations are the use of Injured Reserves and the Practice Squad, which are both 0-9 settings. The former allows you put a player on IR for the rest of the season (no coming back) in exchange for 50% of their current year contract value back as available cap space, which allows you to sign more free agents. The player does not have to be on the real NFL IR or even injured to use this feature.
The Practice Squad is a sub-roster where you can stash players for smaller contract values and promote them to your real roster by offering them an upgraded contract. But be careful, because other managers can poach your Practice Squad players by offering them better contracts than you, adding another strategic element to player stashing. And once a player gets promoted up, they can't go back down on your Practice Squad.
Scoring
Sorry for the lengthy screen shot, but the scoring settings are massive and are presented in a way that makes it hard to show. I'm not even showing the advanced configuration screen, where you can customize the settings for each position on your starting roster. I won't dive as deeply into this section as I could, but there are a few noteworthy areas:
Match & Standings Tie-breakers – You can allow ties, but you also have a plethora of ways to configure how both match and league standings ties are broken to determine wins/losses and who advanced to the playoffs.
Bonuses – You can add bonuses on many stats, but how you add the bonuses is very direct: X points at Y value. It's important to note that these are non-stacking bonuses and are instead driven by the final stat value.
Advanced Scoring Options – Unless you have a vanilla league, and assuming you do IDP, you will likely have to use the Advanced Scoring Options to tweak how each position scores its points. There is nothing wrong with this, but just know going in that you will want to hunt down this feature, which is highlighted in red on the page.
Acquisitions
The Acquisition page focus on Free Agent acquisition and Trades. In #RSO, FAAB is not explicitly used because each team is allowed to acquire free agents within the confines of their salary cap space. The concept of FAAB is used though – managers bid money on players to acquire them in free agency. There is an additional wrinkle, though. When a player is on waivers (just dropped, but not yet a free agent), managers are given a configured number of days to claim a player and their current contract. A claim means the player's contract passes from the old manager to the new one and there is no cap penalty for the old manager. If the player clears waivers and becomes a free agent, the old manager will have dead cap consuming their available salary cap, which means there is some cost to dropping a player in #RSO.
The Trade configuration sub-section is pretty self-explanatory, with a key point being whether trades are allowed in the off-season. Since #RSO is Dynasty-like, it's encouraged to allow off-season trading, but you have the option to decide whether you will allow that or not. It should be noted here that current and future Rookie Draft picks can be traded if you allow trades, even though this is not a displayed configuration.
Draft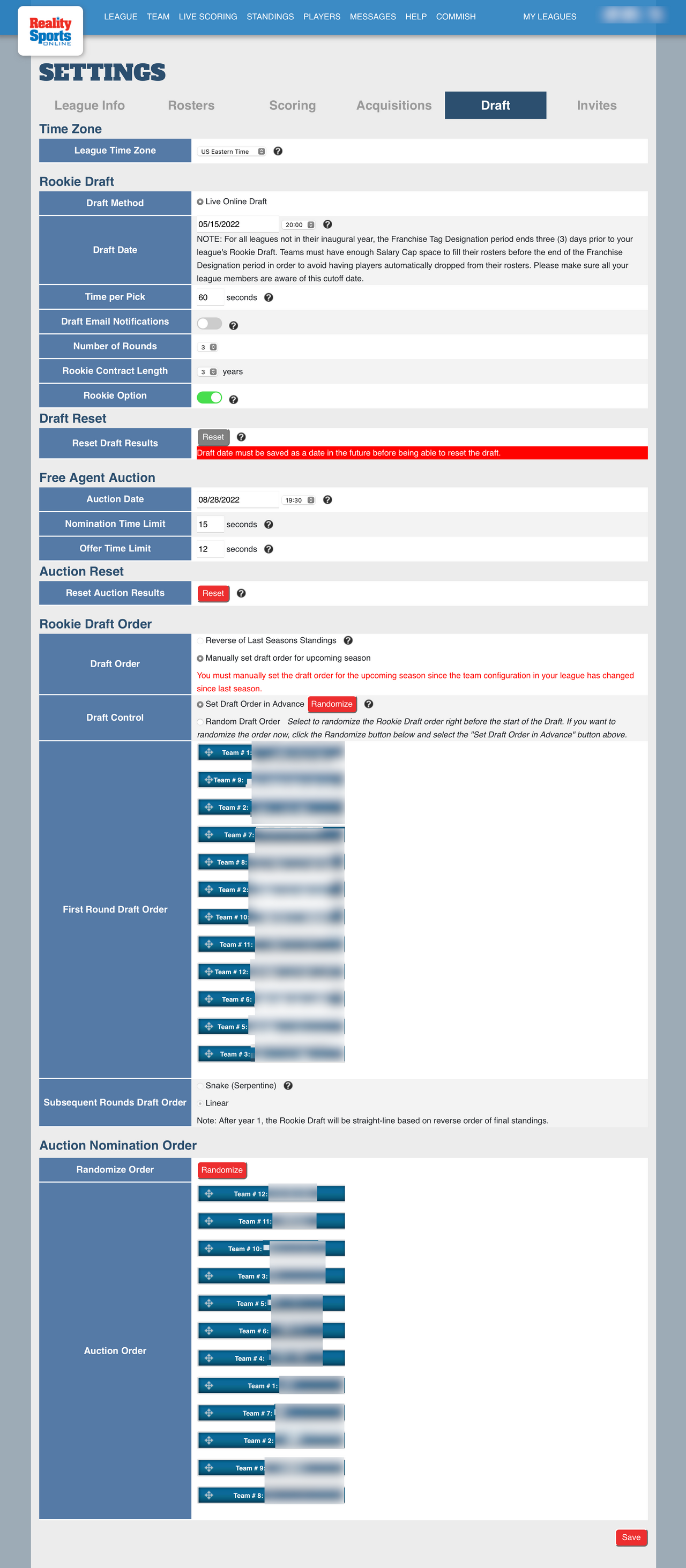 As noted before, there are two "drafts" in #RSO – the Rookie Draft and the Free Agent Auction, and this screen focuses on configuring both.
The Rookie Draft is a more traditional draft, but only for Rookie Players. It can be either Linear or Snake in year 1, but subsequent years will always be Linear based on standings, just like the real NFL. The typical draft settings are here, but there are two #RSO unique settings: Rookie Contract Length and the use of Rookie Options. The former determines how long a Rookie stays on your team (3 or 4 years) before their contract expires. Rookie Contract values are fixed in RSO based on this setting and draft position. Rookie Option works mostly like the NFL and similar to the Franchise Tag. In the off-season before their final year, you can "option" a rookie for an additional year based on the average of the top 10 current year contract values at that player's position (Franchise Tag is top 5). Unlike the tag, you can option any player drafted in Round 1, whether you drafted them or traded for them.
The Free Agent Auction is a different kind of draft. I won't cover auction drafts here, but you bid on players instead of taking them in turns. There are three key configurations for an #RSO auction:
Nomination Order – managers take turns nominating players for bidding and you can set this order however you want (it doesn't have to be based on last year's standings like the Rookie Draft).
Nomination Time Limit – this is how long managers have to nominate a player. As soon as a player is nominated, bidding begins whether the full length of this timer was used or not.
Offer Time Limit – The nomination is the first bid, and it's always for a league minimum contract (500K). At that point, this timer will begin counting down, waiting for managers to outbid. Every time a manager outbids the high bid, this timer resets. As soon as the timer reaches 0, the highest bid wins the player and the next nomination is up.
There are two more points about Offer Time Limit. First, you can't set an "overall max bidding duration" per player. If people keep bidding, the timer keeps resetting, which means it's hard to know how much time you will spend per player. This should be factored into setting this value. The second is that #RSO recently introduced a slow auction mode, which can be enabled by setting this value to 3,600 seconds (an hour) or greater. Slow auctions behave differently than "fast/regular" auctions, but I won't be covering that in this post.
Invites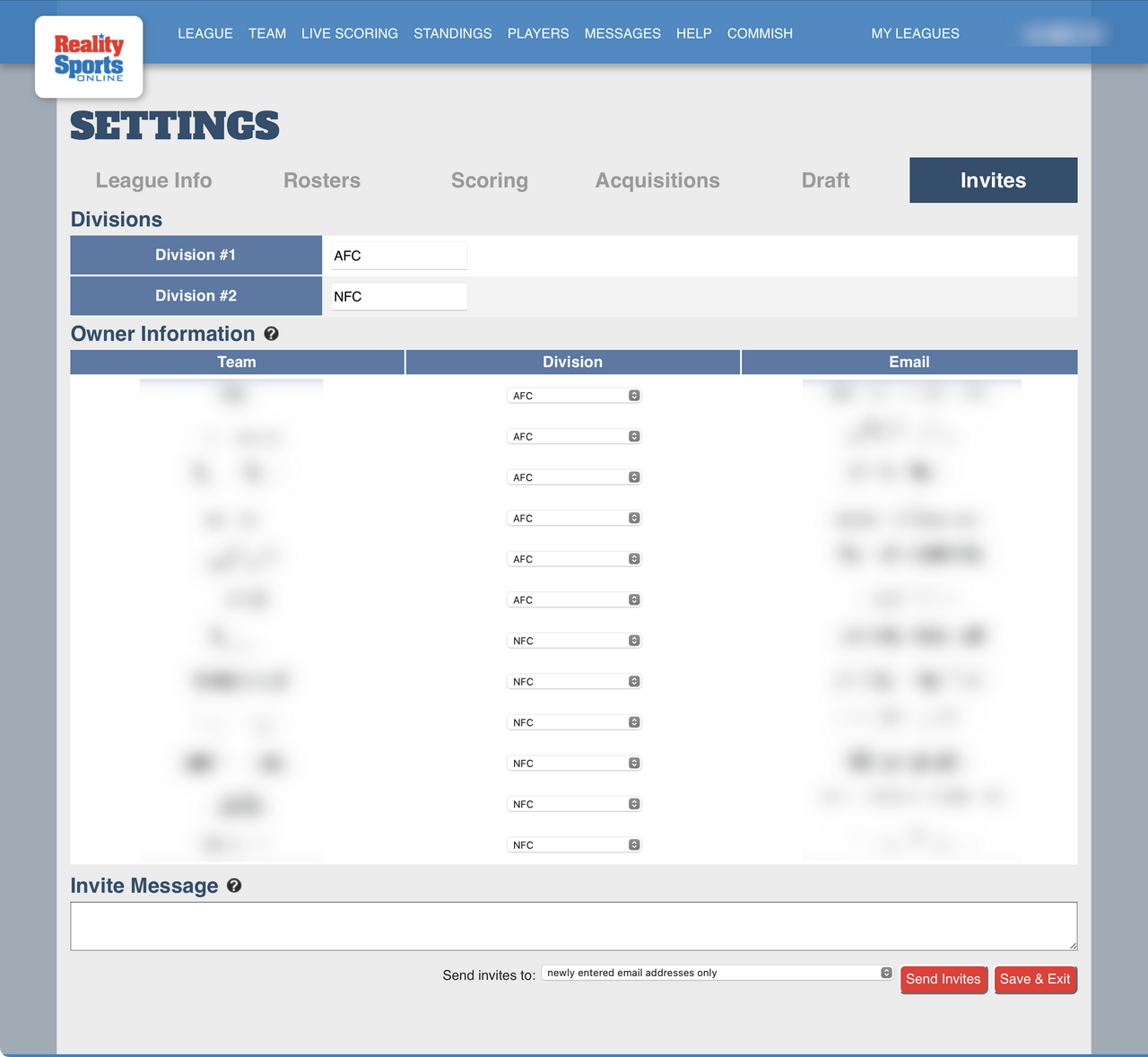 The last section serves two purposes: division configuration and inviting managers into your league. If you use divisions, you can assign the managers to their respective divisions here, and these can stay fixed each season or change based on your own league rules – there are no settings to rotate teams between divisions.
Once you finish your league configuration, you can click the red "Send Invites" button to invite your managers into your league.
#RSO league setup can be pretty easy compared to other platforms, depending on your league scoring settings. That section will definitely take the most amount of data entry time, but some of the other settings will require you to put a little more thought into how you want your league to behave before you run through these configuration screens. I will cover that more in future posts.